Webinars for online seminars and conferences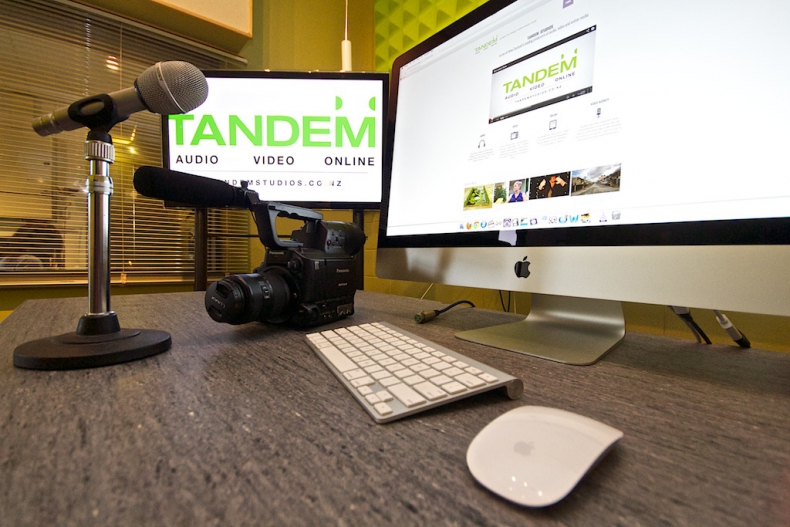 Tandem Studios recently hosted a successful webinar for one of our local clients. A webinar is essentially an online seminar or online conference that can be viewed by anyone, anywhere in the world.
All webinar participants have to do is register for the service and login at the scheduled time and the host presents to them, in the same way you would at a live conference or seminar. Tandems webinar software of choice gives us the ability to have presenters and viewers, both providing and watching information. Hosting a webinar is far cheaper and environmentally cleaner to actually hosting a live seminar or conference. There is no need to rent a venue or fly in presenters. We had one presenter in our Christchurch studios, but the other was presenting his powerpoint presentation from Hamilton. As the host, Tandem was able to control which presenter had their microphones and video switched on and how the powerpoint presentations were being displayed. We also had the ability to upload relevant documents to the webinar software so that attendees could download it. This collaboration is invaluable, it was a huge benefit for the client to be able to share information in such a quick and convenient way. Not only do you get to see who is logging in and their details but you also have the ability to see what peoples attentiveness is during the webinar. Furthermore, attendees have the ability to ask the panelists questions via a convenient chat bar. With this feature, questions can be asked to the presenters in a silent manner that they can then answer at their leisure. This is another powerful tool that enables the attendees to have a say with whatever topic is being presented. At Tandem we like to archive video so that it may be watched on demand. With our webinar software, we are able to record the webinar to our server so that it may be uploaded to YouTube and then embedded onto our clients website. This is a great feature so that people who may have missed the webinar can watch it at a later date. Webinars have the ability to transmit a wealth of knowledge over a huge area without the need for people to travel away from their homes or office. Any company can easily share information by simply hosting a webinar and of course this type of sharing of information is a great way to produce content that adds value to your marketing, social media and gives great value to your clients.